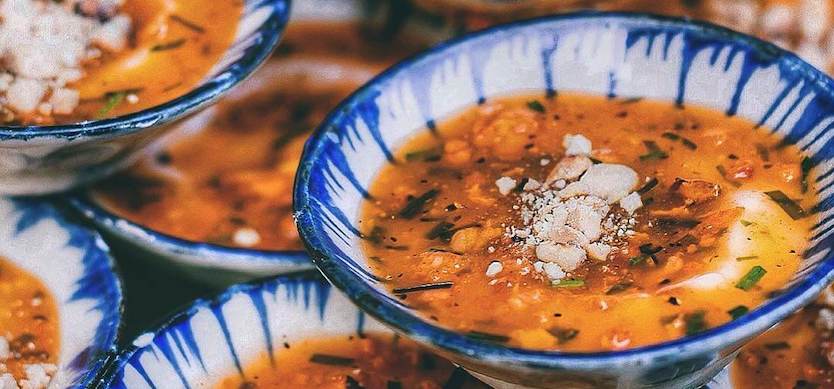 Quy Nhon is a Central coastal city with numerous beautiful beaches and famous landmarks. Unlike other places lying close to the endless coastline, Quy Nhon cuisine impresses travelers on Vietnam tours by not only seafood but also dishes of cakes and noodles.
You might be wondering:
"Is it cheap to eat in Quy Nhon?"
Absolutely! Quy Nhon is developing tourism, but life here is still very simple, rustic, and the travel cost is very cheap.
With only VND 200,000 - 300,000, you can almost discover all the delicious dishes here. For that reason, Quy Nhon has become one spot of the cheap group tours Asia. If you are a lover of culinary exploration, you should not ignore this fascinating land.
And here is...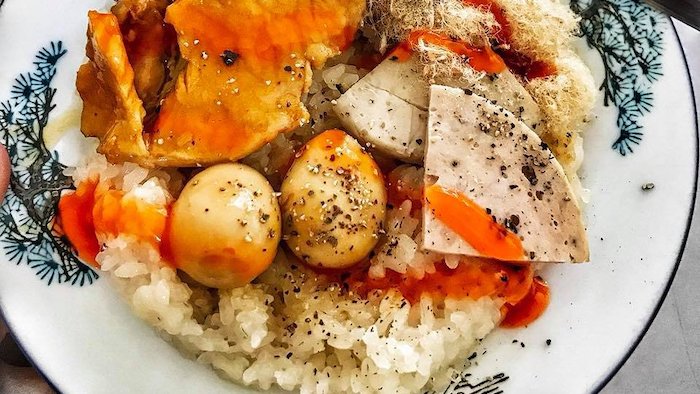 Sticky rice in Quy Nhon
[snippet]3[/snippet]
Sticky rice
Address: 38 Nguyen Hue street (open from late afternoon to evening)
Price: VND 10,000 - 20,000/person
A dish of hot and fragrant sticky rice is the first choice of Quy Nhon people. This place sells all kinds of sticky rice like bean sticky rice, chicken sticky rice, corn sticky rice, etc.
Rice pancake folded in half
Address: eateries on Nguyen Thi Minh Khai, Hoang Hoa Tham, Dinh Bo Linh, and Xuan Dieu streets
Price: VND 15,000 - 50,000/person
It is a popular dish, but the rice pancake folded in half in Quy Nhon has its own flavor, unlike other places.
The first difference comes from the distinct flavor of the fish sauce. Also, the filling of the cake is made from round, red crawfish which are processed when they are still fresh. You will taste the crunchy yellow crust covering the fresh shrimps along with the aroma of vegetables.
Cake soup with stewed pigskin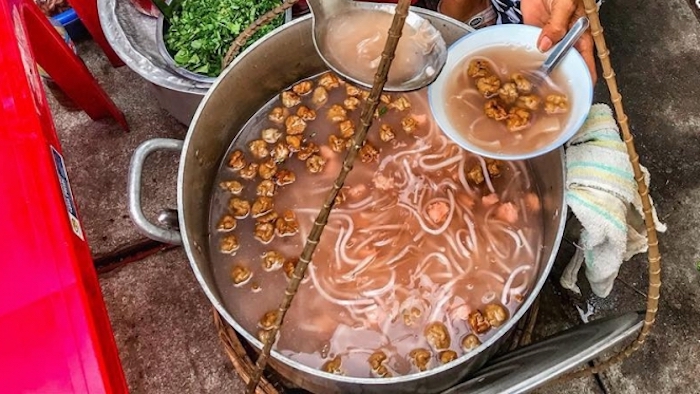 Cake soup with stewed pigskin
Address: street eateries on Phan Boi Chau street (open from 3.00 pm daily)
Price: VND 10,000/person
Cake soup is no stranger to Binh Dinh people, but the cake soup with pigskin is a dish many tourists miss when coming to Quy Nhon. It can be said that the food meets all three criteria of delicious, healthy, and cheap.
Soft, chewy noodles served with fried pigskin that is both crispy and fragrant have made the dish more attractive than ever. The broth is extremely rich and sweet.
Water fern cake
Address: eateries on Nguyen Tat Thanh, Nguyen Hue, and Tran Hung Dao streets, etc.
Price: VND 10,000 - 30,000
Water fern cake does not originate from Quy Nhon, but if you have a chance to come here, you should enjoy this dish once. Quy Nhon water fern cake is made from rice flour, covered by a thin layer of chives, salted shredded pork, shrimps, and crushed roasted peanuts.
You can also choose crispy fried bread, a new version of the water fern cake. The bread is diced and deep fried. After that, the sweet fish sauce will be sprinkled on the food.
Fish noodles
Address: restaurants on Nguyen Hue street
Price: VND 25,000 - 30,000/person
Quy Nhon fish noodles include vermicelli, grilled chopped fish, bone and fish head stewed water, vegetables, etc. All these ingredients blend, creating a sweet and attractive flavor. Enjoying fish noodles in the right way must be accompanied by a full plate of raw vegetables, the grilled chopped fish, and fish sauce.
Jellyfish noodles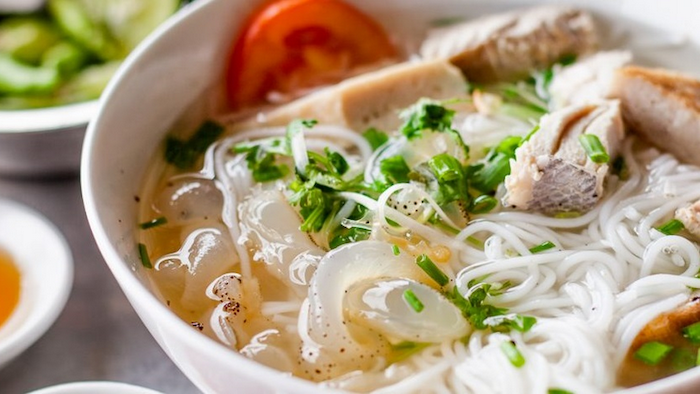 Jellyfish noodles in Quy Nhon
Address: restaurants on Phan Chu Trinh and Tang Bat Ho streets
Price: VND 15,000 - 20,000/person
To make this dish, jellyfish is an indispensable material. The dish is made from vermicelli, jellyfish, soup, fried chopped fish, roasted peanuts, and green onions.
When enjoying, you must eat with sour mango and herbs so you can feel the right taste. The sourness of the mango and the sweetness of the jelly will make you remember forever.
Vietnamese grilled sausage
Address: Hai Thuong Lan Ong and Mai Xuan Thuong streets
Price: 5,000 - 10,000 VND
Unlike Thanh Hoa fermented pork roll, Hanoi fried fermented pork rolls, Quy Nhon grilled sausage is made from ground pork, wrapped in banana leaves or guava leaves. This specialty is selected as a gift by many tourists when they come here.
The grilled sausage can be eaten instant or baked, served with banana, cucumber, or star fruit.
Glutinous rice cake
Address: eateries on Chuong Duong street
Price: VND 3,500/unit
Glutinous rice cake is a special dessert and gift chosen by many tourists to give to relatives. The cake is soft, chewy, made from hemp leaves, green beans, coconut, and ginger. The proper way to enjoy it is to eat slowly to feel the delicious taste.
"Lagu" bread
Address: restaurants on Nguyen Hue, Ngo May, and Pho Duc Chinh streets
Price: VND 15,000 - 35,000 VND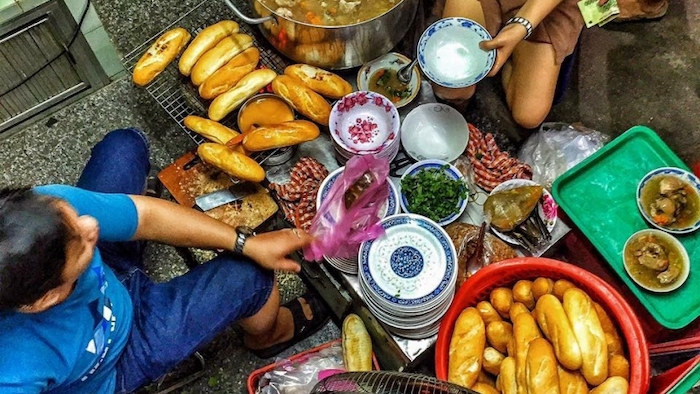 Tasting the "Lagu" bread
"Lagu" bread is also popular breakfast in Quy Nhon. The dish includes stewed pork, carrots, potatoes, beans, and bread. The rich, hot flavor of "Lagu" bread is very suitable for enjoying on rainy or slightly cold days.
Seafood
Address: fishing villages, seafood market, or restaurants on Ngoc Han Cong Chua street
Price: VND 30,000 - 100,000/person
Enjoying seafood dishes is something you can hardly miss when visiting the coastal city of Quy Nhon. It is a place for you to be ready with a culinary feast filled with fresh and attractive seafood. They are very diverse, from sea snails, scallops, oysters, clams to King crabs.
Hope that with our guides of the 10 most famous food for tourists to Quy Nhon, you will have a wonderful time here with your friends and family. If you need further information, don't hesitate to let us know or visit our website. Please like and share the article if it's useful for you. Thank you.