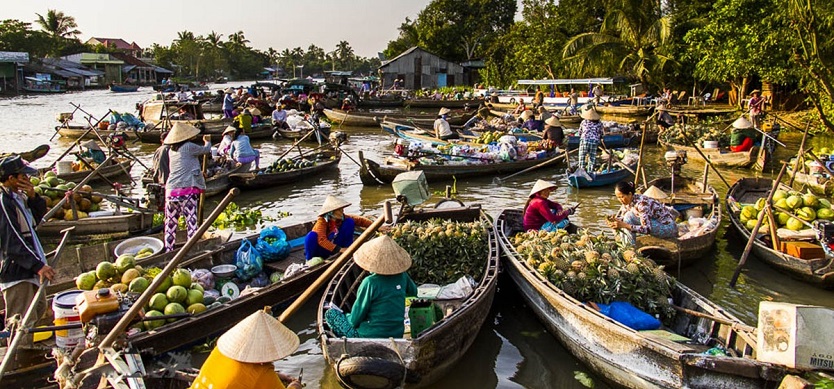 Mekong Delta is an interesting land with a distinctive culture and peaceful landscape.
This region is home to thousands of small and big rivers and channels that brings many fascinating features for local life and tourism. One of them is the floating market - a symbol of Mekong Delta.
In this post, we're about to introduce the most famous floating markets that you should not miss when traveling there.
Nga Bay floating market in Hau Giang
Nga Bay Floating Market, also known as Phung Hiep Market located in Nga Bay city was formed in 1915. It is a famous market in Hau Giang where the buying and selling activities of inhabitants in Mekong River Delta occur. This is also a place that attracts a large number of tourists.
Coming here, visitors will see a colorful picture of fruits, vegetables, and living utensils, especially the bright red color of rambutan, mangosteen and the aroma of durian. Each boat only sells one kind of fruit or good which is hung on a tall pole as a way of advertising. If you have the chance to come here, let's float on the river to enjoy a cup of coffee, hear the folk songs and watch the 'baba" clothes on boats.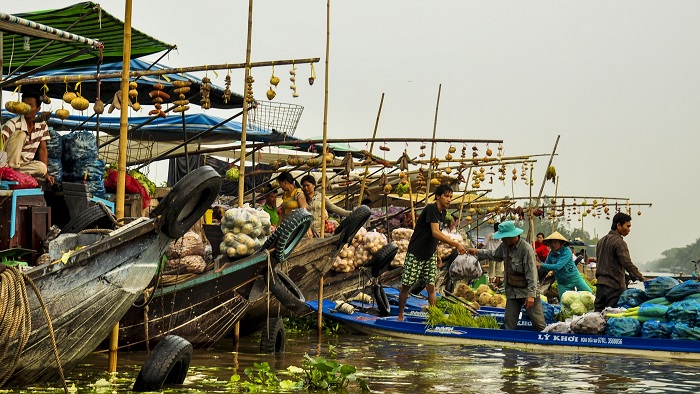 Nga Bay Floating Market
Cai Rang Floating Market in Can Tho
Cai Rang Floating Market is one of the most famous floating markets in Mekong Delta that attracts a lot of visitors when traveling to Can Tho, just about 4 kilometers from Ninh Kieu Wharf. The market was formed to meet the trading demands of the local in the past when the road traffic system was still infant. Today, Cai Rang floating market still keeps growing despite the significant development of the traffic network.
The market opens at 5am. The typical feature of this market is providing the famous fruits of the Southern region such as Nam Roi pomelo in Vinh Long, Lai Vung tangerine or Cai Mon durian. Other fruits that you can find here are rambutan, mangosteen, milk fruits and grapefruits.
Like other floating markets, they hang the good that they sell in a pole. There are also floating restaurants with local dishes such as noodles, rice, etc at a very reasonable price.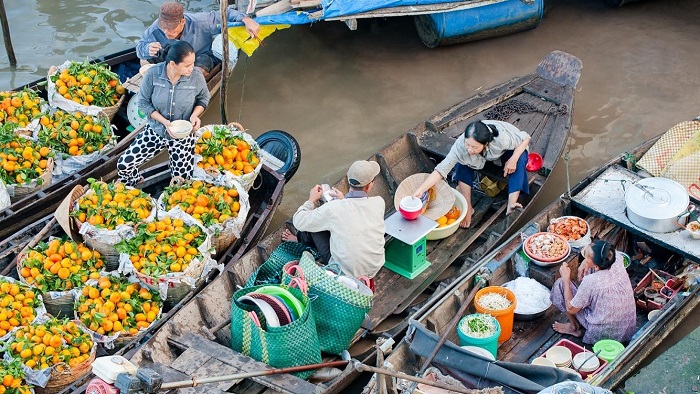 Cai Rang Floating Market
Long Xuyen Floating Market in An Giang
Long Xuyen Floating Market is not as big as other ones but it is a place for those who want to see the idyll and peace of the people and life here. Located about 2 kilometers from Long Xuyen City, the market lies along one side of the Hau River.
The main products here are vegetables, melons, cucumber, pumpkin, potato and famous foods of An Giang such as fish noodles, tam cake, and pigskin cake. The special thing here is that you do not have to bargain when shopping. The people here are friendly and honest.
Nga Nam Floating Market in Soc Trang
Located in Nga Nam Town, Soc Trang province, Nga Nam Floating Market is one of the oldest and most exciting floating markets in the Mekong Delta. Unlike other floating markets, Nga Nam market starts from 3 am. It's more crowded at 5 am and ends around 8 am.
From a distance, you can see poles hanging goods such as cabbage, potatoes, onion, garlic, and chili. It can be said that the market has most of the products in Mekong Delta, from famous rice, vegetables, fruit to shrimp, crab, and fish – the typical foods of the region. The market has boats serving food such as porridge, noodles or coffee.
Nga Nam Floating market still retains the idyll and typical soul of floating markets in Southwest with ba ba shirts of women, the ancient songs and the dear words of Southern style.
Cai Be Floating Market in Tien Giang
Cai Be Floating Market
Located in Tan Phong isle, Cai Be District on the large Tien River between Tien Giang, Vinh Long and Ben Tre provinces, Cai Be Floating Market is a must-see destination in Mekong Delta.
The market is the place for exchanging fruits and vegetables and also an attractive destination in Tien Giang. Unlike other floating markets, Cat Be opens all day, from early morning until late at night. The market is divided into two separates parts: buying area and selling area.
In the early morning, boats and sampans come here full of vegetables, fruits and other agricultural goods such as sweet potatoes and pumpkins.
Tra On Floating Market in Vinh Long
Tra On Floating Market is the last floating market located on Hau River in Tra On District, Vinh Long province. This is one of the oldest markets associated with many cultural activities of people in the area. The special feature of Tra On Floating Market depends on the water rising. It's more crowded in the morning with many large boats coming there.
Visitors can easily explore the market at any time of the day. Do not forget to try the most famous specialty there: the beef noodle soup with banana flower when listening to the songs "Tinh anh ban chieu" or "Da co hoai lang".
Come to these floating markets we've introduced and learn more about the distinctive culture of Vietnamese people. For more information about Asia Group Tours, you can visit our website. Have a nice trip!