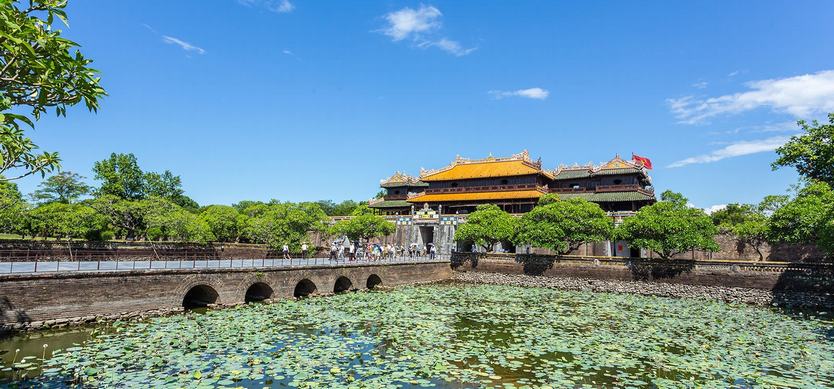 The ancient capital Hue has never disappointed any tourist thanks to its peaceful scenery, warm people and heroic history.
Hue always keeps visitors busy with tons of interesting things to do and see.
But,
What are the best places to visit when coming here?
Keep reading and find the answer in this post below.
[snippet]12[/snippet]
The Imperial City
Located right on the banks of the romantic Perfume River, Hue Citadel is a cultural relic recognized as a world cultural relic. The Imperial City of Hue includes the Citadel and the Purple Forbidden City.
Coming here, you will have the chance to admire the magnificent palaces, temples, and shrines of the altar, massive with the bold architecture of the Nguyen Dynasty.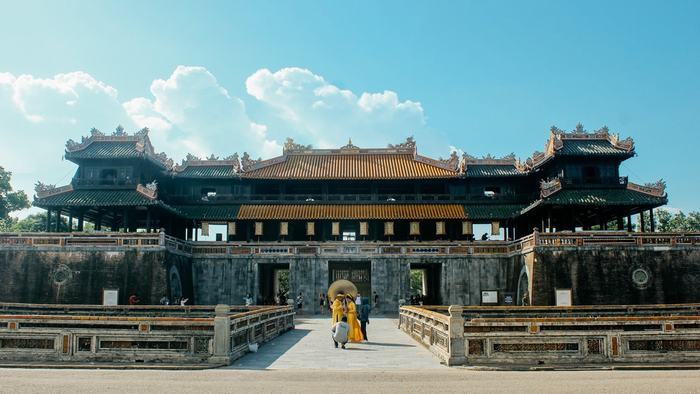 The Imperial City
Recently, Hue Citadel was officially opened to visitors at night from 7 pm to 10 pm. It is an opportunity for you to take beautiful photos under shimmering lights.
Tombs
During the Nguyen Dynasty, there were 13 kings, but only 7 tombs were built. The king chose their tombs' location and architecture, so each tomb in this place brings its own architectural features with sophisticated and unique carved details.
Tu Duc Tomb
Located in a narrow valley of Duong Xuan Thuong village, Cu Chanh, Tu Duc Tomb (also known as Khiem Tomb) are probably the most beautiful tombs of the Nguyen Mings due to the harmony between the natural landscape and huge architectural space.
Minh Mang Tomb
Minh Mang Tomb is a destination that tourists cannot ignore with the static lines in architecture combined with the space of painting and poetry. It somewhat demonstrates the king's solemnity but romantic personality.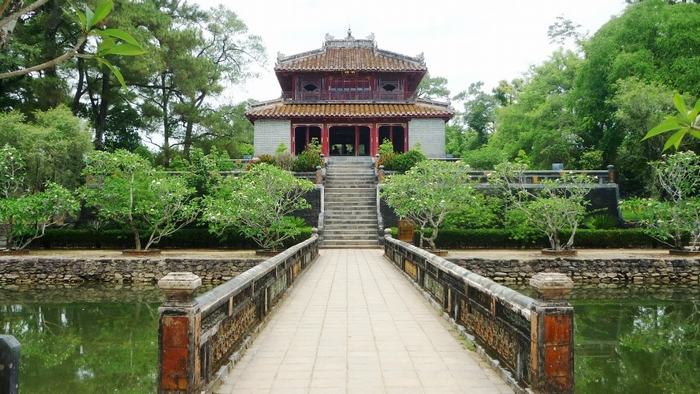 Minh Mang Tomb
Khai Dinh Tomb
Built on Chau Chu mountain, Khai Dinh Tomb is the resting place of the 12th emperor of the Nguyen dynasty. Despite its small size compared to the other tombs, Khai Dinh Tomb was built in an extremely sophisticated way for up to 10 years.
Khai Dinh Tomb is the only royal tomb with an architectural interference between the East and West cultures. It is shown by the magnificent reliefs that are meticulously matched with porcelain and glassware, tea trays, crowns, and modern decoration items of the time such as tennis rackets, or kerosene lamps.
Thien Mu Pagoda
Thien Mu Pagoda (also known as Linh Mu Pagoda) is located on Ha Khe Hill, on the bank of romantic Perfume River.
The pagoda was officially established in 160, the reign of Lord Nguyen Hoang - the first Nguyen Lord in Dang Trong and one of the oldest temples in the ancient capital.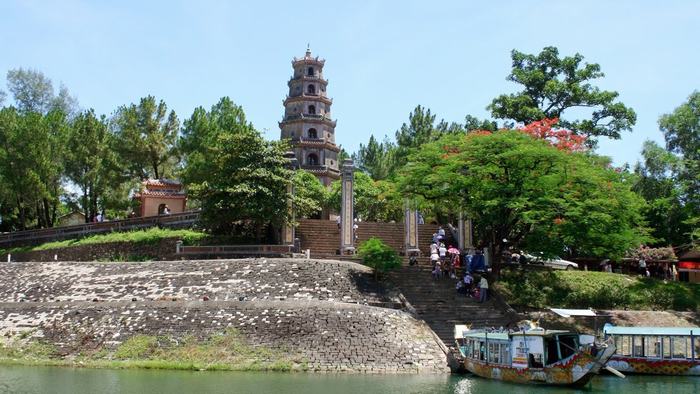 Thien Mu Pagoda
The symbol of Thien Mu pagoda is Phuoc Duyen Tower. The tower is 21m high, consisting of seven floors. Each tower floor worships Buddha statue. Inside, there is a spiral staircase leading up to the top floor, where it used to worship a golden Buddha statue.
Perfume River
Perfume River is a big river flowing through the heart of Hue City, famous for its poetic and lyrical beauty.
The Huong River has two large branches, originating from the Truong Son Range. Ta Trach branch comes from Long Cave, flowing through 55 large and small waterfalls to Bang Lang intersection.
Vong Canh Hill
If you are looking for a place to see the panoramic view of the city, go to Vong Canh Hill. From here, you can admire see the beautiful landscape of the poetic Perfume River and the ancient tombs, temples, and pagodas. If you have the opportunity, come here when the sunrise or sunset, you will see an angle of Hue as bright as the sparkling sunshine.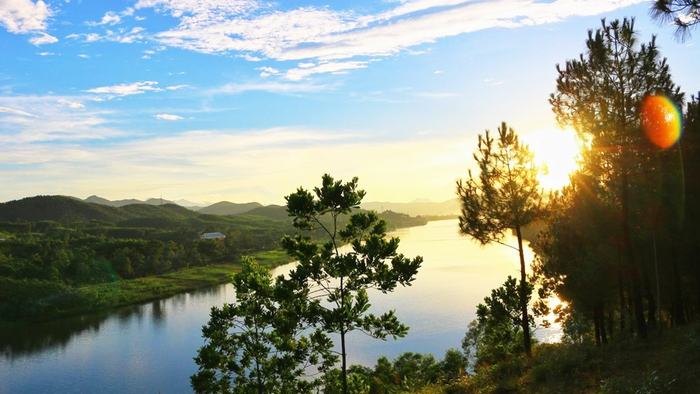 View from Vong Canh Hill
Trang Tien Bridge
Trang Tien Bridge (also known as Truong Tien Bridge) crosses the Huong River with soft, smooth curving bridges and is one of the typical symbols of Hue ancient capital. Trang Tien Bridge is also associated with a history of more than 100 years and witnessed many ups and downs of the history of the nation. Today, the bridge is installed with a modern lighting system, shining brightly and colorfully in the evening.
Bach Ma Moutain
Bach Ma Mountain is a natural boundary between Thua Thien Hue and Da Nang provinces. It belongs to Bach Ma National Park with majestic waterfalls and a variety of rare and precious plant and animal species. Conquering Bach Ma Mountain, you will admire the panoramic view of Tuy Van Mountain, Hai Van Pass and the magnificent scenery of Hue City.
We hope that with our suggestions above, you will have a nice trip when visiting Hue. There are also a lot of beautiful places waiting for you there. Let's come and explore. For more information about other destinations in Vietnam, you can visit our website. If you have any questions, feel free to contact us. Share this article with others if you find it helpful. Thank you!