The ancient capital Hue is an attractive destination for those who are interested in exploring cultures and peaceful scenery.
It is home to numerous historical relics that are worth a visit.
But, where are the places to stay when traveling there?
Today, we want to break down top luxury hotels for a desirable stay in this ancient capital.
[snippet]7[/snippet]
Angsana Lang Co Hue
Angsana Lang Co Hue belongs to Laguna Lang Co international class resort complex, located at Chan May, connected to Lang Co bay overlooking the sea. This area is famous for its pristine coastline, tropical forests and rugged ridges. Also, Lang Co Bay is also rated as one of the most beautiful bays in the world by Worldbays Club.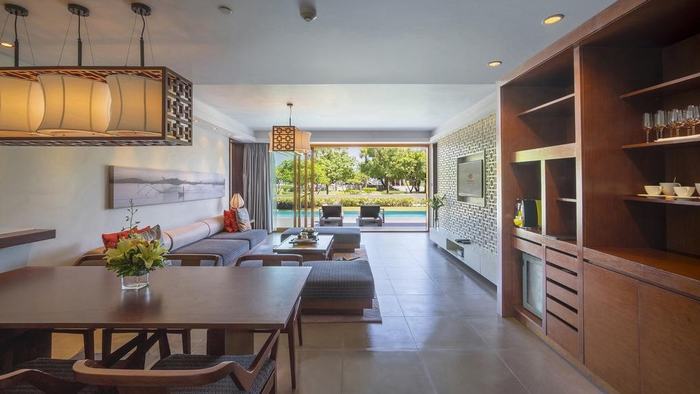 Angsana Lang Co
The resort consists of 229 rooms designed in the form of apartments. The interior is a delicate blend of traditional and modern Vietnamese culture. This is the first and most exclusive three-story luxury beachfront apartment project in Vietnam. At Angsana Lang Co, visitors can discover beautiful works from silk embroidery to lacquer paintings made of eggshell.
Subtle details are added value through the use of environmentally friendly renewable materials such as bamboo, rattan, and palm, making it feel like living among traditional Hue houses. The harmonious combination of neutral colors and vivid color spots contributes to highlighting the characteristic of Angsana brand.
Indochine Palace
Nestled in the lush green garden, with a luxurious and modern look, the Indochine Palace has become a prominent highlight in Hue. It is also the place where you can find high-class facilities at an international 5-star hotel in Vietnam.
The hotel is designed to aim to customers who are businessmen, high-end travelers, business travelers, providing the best facilities for important events such as conferences and seminars, exhibitions, and reward parties.
The hotel rooms are luxuriously designed, with an area of 35m2 or more. The highlight is a modern 42 "flat-screen TV, with the idea of modern open bathroom creating rich art space.
Le Spa & Gym is one of the best spa treatment centers in Hue with perfect facilities, equipment, and prestigious products. There are services such as massage, body treatment, waxing, facial treatment, and lord of luxury package.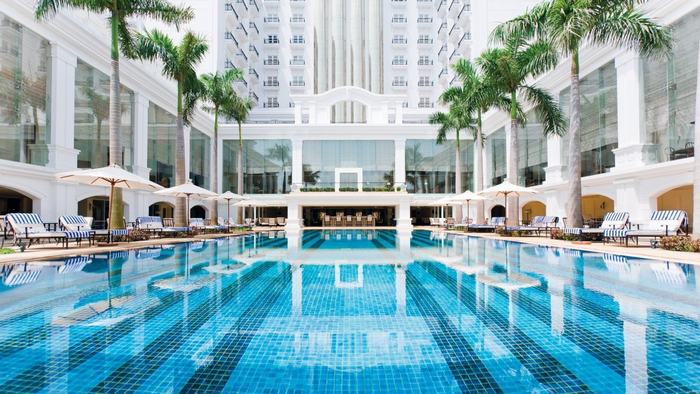 Indochine Palace
Banyan Tree Lang Co
Banyan Tree Lang Co Resort belongs to Laguna Lang Co complex which is one of the ideal destinations in Central Vietnam.
Designed to give you a sense of closeness with nature, privacy, and romance, Banyan Tree lies in a unique crescent bay surrounded by a 3-kilometer long beach at Chan May Economic Zone.
Inspired by the artistic heritage of Vietnamese dynasties, Banyan Tree villas include a total of 62 villas designed with clay roof tiles, small gardens, and wooden ceilings - the main characteristics in traditional garden houses in Hue.
Besides the traditional beauty, Banyan Tree resort also brings modernity and comfort with the swimming pool equipped in all the villas, class restaurants, spa, yoga and gym room.
In particular, for those who love outdoor activities, Banyan Tree also has an entertainment area with over 100 water and ground sports activities and an 18-hole golf course designed by Nick Faldo.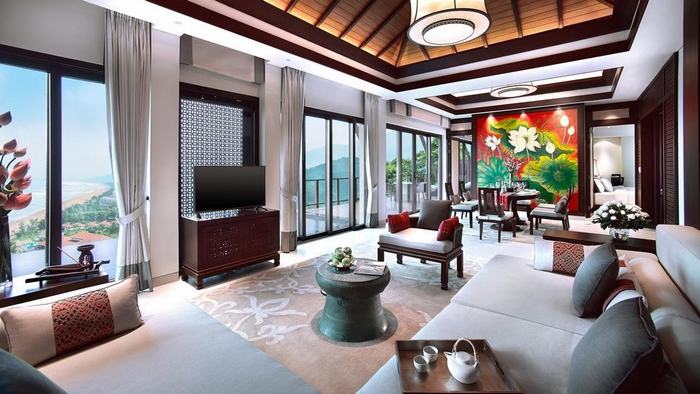 Banyan Tree Lang Co
Pilgrimage Village Boutique Resort & Spa
Pilgrimage Village Boutique Resort & Spa is ideally located in a quiet suburb in a rustic village surrounded by lush and quiet gardens. The resort represents a delicate combination of traditional style and modern art, bringing harmony between the natural environment and traditional local culture.
Featuring 99 rooms, the resort will bring you warmth and relaxation with a view of the resort's landscape. Each room is a separate home, surrounded by gardens and 2 private balconies overlooking the lake and the countryside.
You can enjoy Vietnamese famous dishes or Hue specialties at Junrei restaurant, have breakfast in open space and fresh air to start a new day of the trip or enjoy the famous wines at Candel Bar, PeanutBbar or Slope Lounge.
Pilgrimage Village Boutique Resort & Spa will prepare you for a delicious and delicate meal.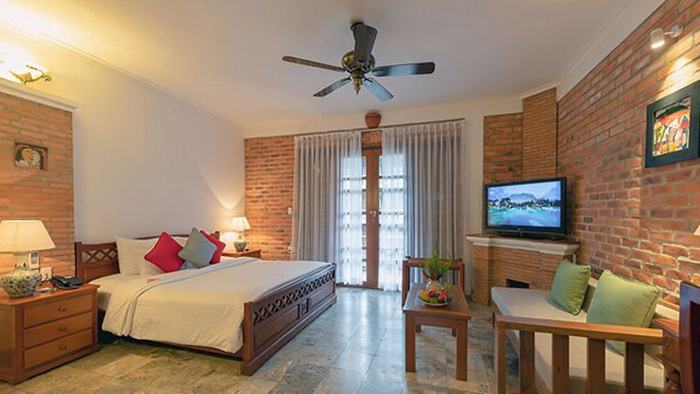 Pilgrimage Village Boutique Resort & Spa
We hope that with our suggestions above, you can choose the most suitable ones for your upcoming Vietnam tours. For more information about traveling to Asia, you can visit our website. If you have any questions, feel free to contact us. Share this article with others if you find it helpful. Thank you!