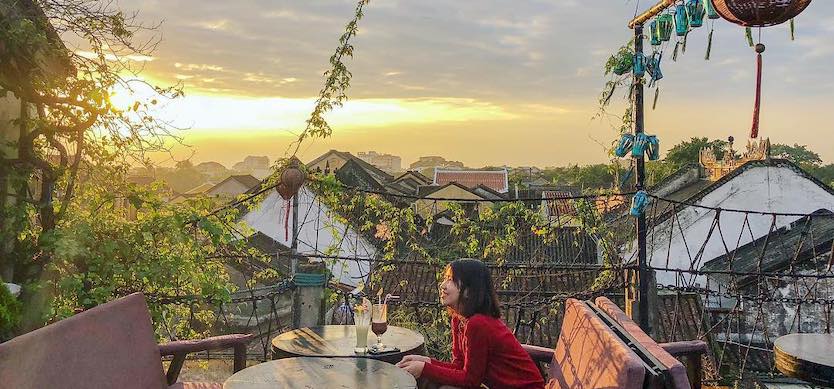 Together with Halong tour and other sites, Hoi An has become one of the worldwide attractions in Vietnam with ancient, peaceful, and dreamy features. Hoi An ancient town stands out with a number of alleyways, yellow walls, tile roofs, confetti trusses, dreaming Hoai river, etc.
However, there is a great experience that not everyone knows when coming to Hoi An.
Can you guess it?
That is, viewing the old town and letting your mind wander on the sky coffee shops here.
If you are still confused about the locations that offer the best panoramic scene of Hoi An, you should not ignore this guide.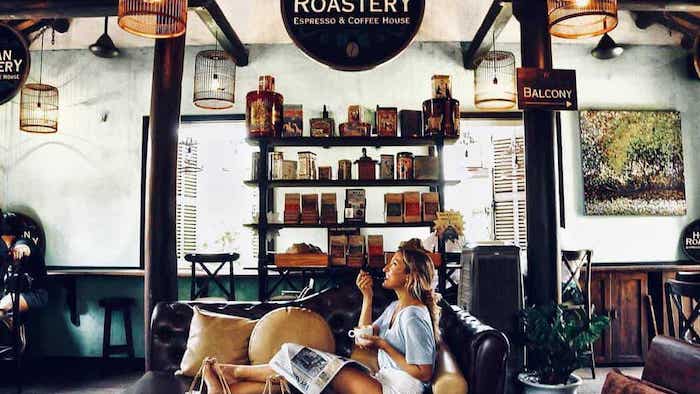 Hoi An Roastery coffee shop
[snippet]4[/snippet]
The Chef
With a space bringing an ancient design and 3 spacious floors, The Chef is an ideal destination for tourists who want to see the old town of Hoi An from above. The rooftop is the place chosen by many customers to relax and enjoy. In order to create more accents, the coffee shop also has many lanterns, rustic wooden tables, and chairs.
The place serves a variety of drinks at a price from VND 30,000. In addition, the menu has many snacks for you to choose from. Coming here during the day or night, just wearing simple outfits, adding a bit of photo editing technology, you will get an excellent vintage photo album.
Cocobox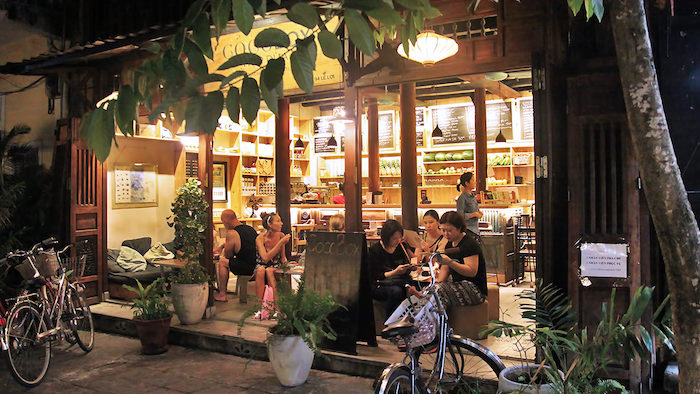 The peaceful space in Cocobox
Looking like a classic European coffee shop but still having the harmonious tone with the typical Asian space of Hoi An, Cocobox is a must-see destination for travelers.
After hours of tiredly walking, coming here, guests will be relaxed with delicious drinks and the panoramic view of the old town from high altitude. An Bang Colada, Good Morning Hoi An, or Relax Thu Bon, etc. are the choices of many people coming here with prices from VND 40,000.
Coming to Cocobox, besides enjoying the delicious and strong coffee, you can find gifts for friends which are specialties processed from 100% raw materials of the local here such as Phu Quoc salt, pollen, dried fruits, and the Vietnamese chocolate Marou.
The Hill Station Hoi An
Located on the central route of Hoi An ancient town, Faifo is a coffee shop that is loved by many young people. With a view unrestricted by adjacent houses, sitting on the top floor, visitors can delight in looking down on the passersby or the old tile roofs of the romantic old town.
The menu of the coffee shop is quite high because it serves travelers with Asian - European style, which combines traditional and modern features. However, the view of Hoi An that it offers is excellent that worths every cent you purchase.
Faifo coffee
Despite not being located in the center of the old town, the coffee shop still attracts diners thanks to its delicious coffee. Drinks are priced from VND 45,000.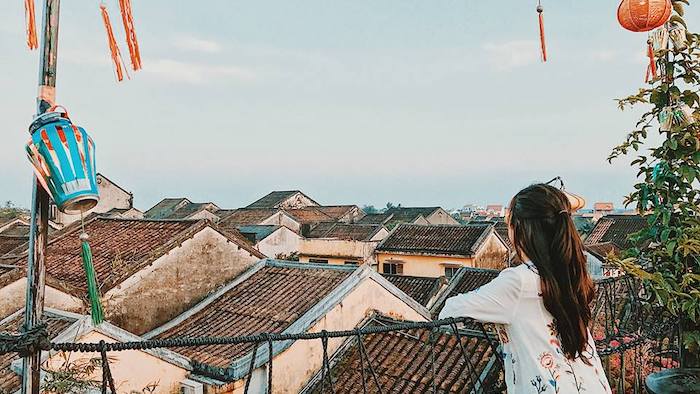 Enjoying the view of Hoi An on Faifo
The best times to take beautiful photos from the balcony corner on the terrace of the coffee shop are early morning and sunset.
With a few wooden chairs placed next to the row of tables fixed to the railing, you can just sip delicious drinks and watch the whole Hoi An with red-tiled roofs tinged with time and people walking slowly below.
The evening here is also incredibly romantic. Space is decorated with many red lanterns to create a very warm and nostalgic feeling.
Hoi An Roastery
With a spacious space and traditional design, Hoi An Roastery is a place to enjoy familiar coffee of tourists when coming to the ancient town. The standard roasted and ground coffee, the quiet atmosphere of the place resonating with the gentle and melodious music will bring you a feeling of complete relaxation after hours wandering around the town.
These 5 sky coffee shops to admire Hoi An from above will make your Vietnam tour more fanciful and exciting than ever since they also offer good drinks at reasonable prices. If you love this experience, don't hesitate to like and share the article with others. Feel free to contact us or visit our website if you need further information. Thank you.