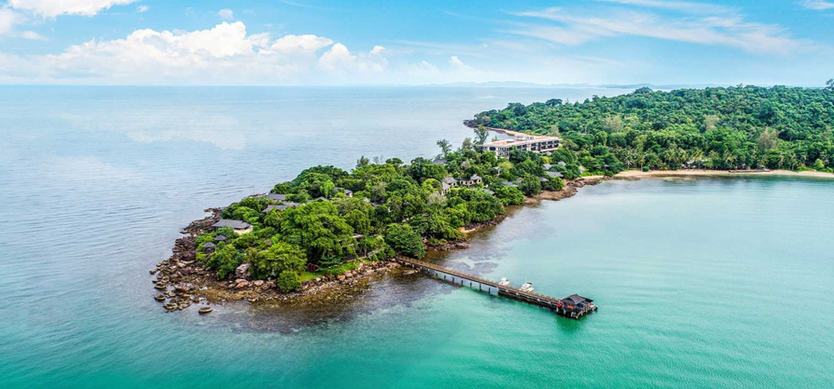 Phu Quoc Island - known as the largest island of the country - is one of the most appealing destinations for tourists when traveling to Vietnam.
Every year, the island receives millions of visitors from all over the world.
So, why is this place so attractive? What can you see when coming there?
If you're about to choose Phu Quoc for your upcoming trip, then you should not miss our article below.
When is the best time to visit Phu Quoc?
The climate here is divided into two distinct seasons: the rainy season and dry season. Because the island is the gateway of the West -Southwest monsoon, in the rainy season, the humidity in the island is very high (from 85 to 90%). In the dry season, the island is affected by the Northeast monsoon, so the temperature will increase in April and May.
The most crowded time in Phu Quoc is from April to September. However, the most beautiful time to get there is from October to March. The average temperature in the year is around 28 degree Celsius.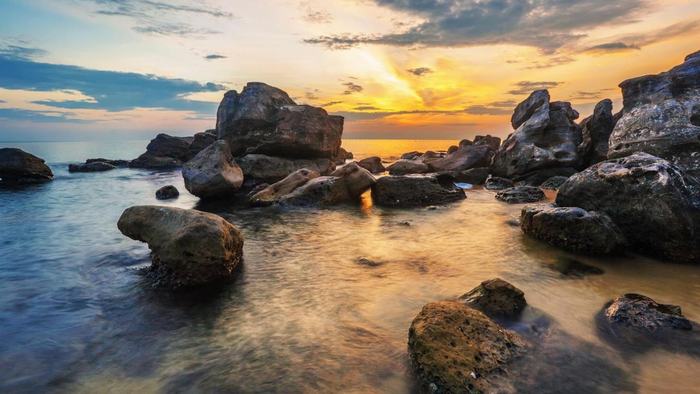 Sunset in Phu Quoc
How to get to Phu Quoc
If you depart from Hanoi, the plane is the most convenient means of transportation. Currently, Vietnam Airlines and Vietjet have direct flights from Hanoi to Phu Quoc.
Phu Quoc International Airport is only 15 to 20 minutes from the center of the island. Some high-end hotels and resorts often have free shuttle service from the airport. You should ask more about it when booking the room.
From Ho Chi Minh City, visitors have more options. Besides direct flights, you can reach Phu Quoc by motorbike, car, speedboat or ferry.
From Rach Gia, visitors can take a high-speed boat to Phu Quoc. In the morning, the Superdong boat usually departs at 8:00 am and returns to the mainland at 1 pm. The travel time is about an hour and the price varies from 230,000 to 250,000 VND per person.
Where to stay when visiting Phu Quoc
In addition to beautiful beaches and unspoiled nature, new high-end resorts are also a special feature of Phu Quoc.
Tourists can find on Phu Quoc affordable guesthouses or high-end resorts with international standards. If you want to save money, you can choose homestay. If traveling with family or young children, the hotel will be the best choice. If you want to be quiet and relax, you should stay at a resort, villa or bungalows near the beach.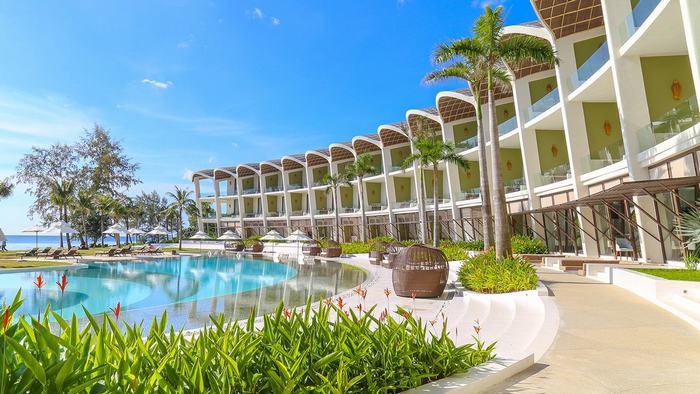 Resort in Phu Quoc
Must-try experiences in Phu Quoc
Phu Quoc is divided into four main tourist zones: the central area (Duong Dong town), South Island, North Island, and East Island. Depending on the schedule, you should spend at least two days if you want to discover all the attractions on the island. Here are some most exciting experiences you should try when coming to Phu Quoc.
Visit beautiful beaches
The first thing you should do when setting foot on Pearl Island is swimming. Long Beach, Dai Beach, Sao Beach, Khem Beach or Ong Lang Beach are favorite places for tourists.
Dive to see corals
It would be deficient if you go to Phu Quoc without diving and watching colorful coral reefs. Hon Thom area is the most ideal diving spot because of clear sea and many untouched coral reefs. This is also a large aquaculture and pearl farming area in Phu Quoc.
Watch the sunset
It is one of the most unforgettable experiences on Phu Quoc Island. Dinh Cau Cape is the best place to watch the sunset with rock formations shaped like a mountain reaching out to the sea.
Night squid fishing
Night squid fishing tours usually start in the evening until around 9 pm. If you go in a group, you can rent a ship or join a group with other guests. The ticket price is about 330,000 VND per person, depending on time. You will be instructed how to squid. Ship owners will also directly process fresh and delicious dishes on board to serve tourists.
Watch sunrise
The most ideal place to watch the sunrise on the island is Ham Ninh Fishing Village. You should wake up early and come here from about 4:30 am to feel the peaceful scenery of the fishing village. Tourists will witness the beautiful sunrise when the sun gradually appears on the sea surface.
Explore deserted islands
Phu Quoc still has many uninhabited islands. Visitors can rent boats and visit Ong Doi area and Hon Dam areas to experience life completely separate from the modern world. However, visitors should only go to the uninhabited islands when the weather is good and the sea is calm, you should go with locals, not go alone.
Such an extraordinary experience, right? Let's take Phu Quoc tours and visit now! For more information about other destinations in Asia, you can visit our website. If you have any questions, feel free to contact us. Share this article with others if you find it helpful. Thank you!