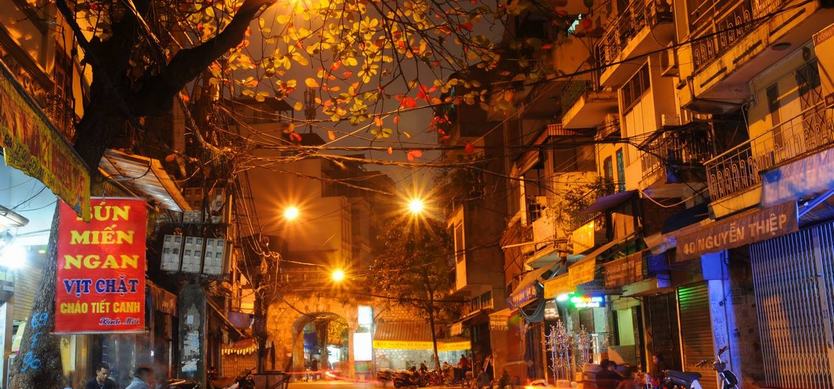 Hanoi is a beautiful city with long-lasting history and distinctive culture that is worth a visit.
Besides numerous tourist attractions to visit in the day time, Hanoi also offers a lot of interesting things to explore when the night falls.
After having stayed in Hanoi for one year, I've experienced a lot and want to share some night activities that you should not miss here.
Let's dig in.
[snippet]9[/snippet]
Dong Xuan Market
Dong Xuan Night Market is always the leading evening tourist destinations in Hanoi. Whether it is day or night, the market is always crowded and attracts a large number of tourists and locals to visit and shop.
Unlike other night markets, Dong Xuan Night Market often opens every Fridays, Saturdays, and Sundays, from 6 pm to midnight.
You will not be able to take your eyes off the junk food stalls from the kind of girders like toads, mangoes, plums, or dracontomelons. Other famous street foods are sausages, grilled chopped fish, beef rolls or grilled meat.
There are also with food of countries like Korea, Japan, China, and Hong Kong. Do not forget to buy some souvenirs as gifts for your relatives and friends.
Walking around the market, finding yourself a favorite item, watching a performance at the market or enjoying Hanoi cuisine is the experiences visitors should try when coming to Dong Xuan night market.
Ta Hien Street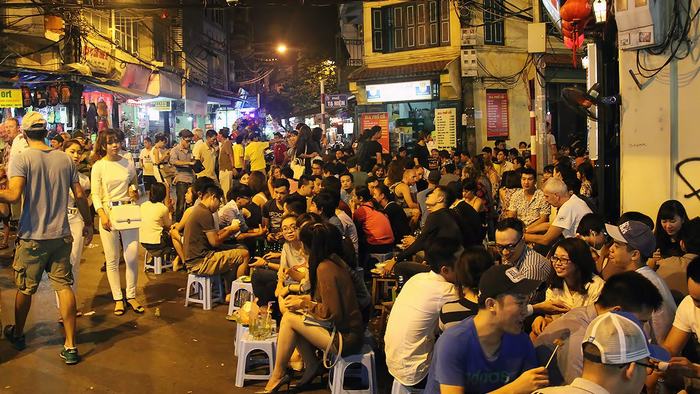 Ta Hien Street
If Saigon has the famous Bui Vien street, ancient Hue is proud of the sleepless Pham Ngu Lao Street, then Ta Hien Street converges all the night beauty of Hanoi.
Known as the most popular destination in Hanoi, Ta Hien Street is a neighborhood that intersects Asian - Eastern culture, both imbued with modernity, liberal, and ancient and subtle aftertaste.
Ta Hien Street is built based on French architectural works with dozens of adjacent two-story houses with a homogeneous design, with the beauty of the early 20th century.
Pavement shops and beer shops lying close to each other to sell typical street foods of Hanoi have become an unforgettable impression for any tourist.
Arriving here, you will be overwhelmed by the bustle of people passing by. Images of young people or foreigners gathering to drink beer and chat with each other has made a strong impression on visitors for the first time visiting Ta Hien. It seems that all barriers of language and culture have been erased. All harmonious souls blend in the bustling and enjoy the breath of Hanoi life at night in every moment.
Long Bien Bridge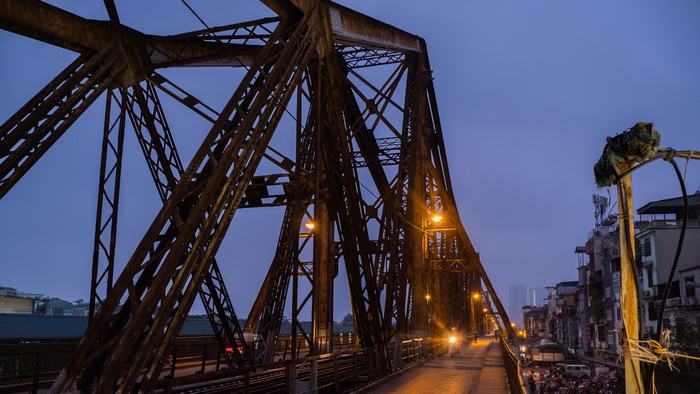 Long Bien Bridge
Long Bien Bridge is not only a historic building but also a very interesting entertainment spot in the evening in Hanoi.
When the evening gradually descends, Long Bien Bridge becomes more sparkling than ever thanks to the bright electric lights. It can be said that the night is a time when the bridge molts the usual quietness to be a gentle and charming girl.
Along the bridge side, you can see a lot of young couples talking to each other and vendors selling lemon tea, iced tea, baked corn, etc.
Standing on the bridge, you can immerse in the cool breezes while chatting with your beloved and feel how glamorous Hanoi at night is.
Hang Buom Food Street
Although Hang Buom Food Street has been in operation, due to the schedule of the city, which coincides with the Hanoi night market, it quickly becomes a very popular destination in the evening in Hanoi.
In the neighborhood, there are up to 40 food stalls with traditional Vietnamese dishes and European and Asian snacks. Each booth is only small but there is enough food to serve your needs such as snail, sticky rice, tteokbokki, rice roll, fried potato, and sweet potato. Moreover, the price here is reasonable.
Hoan Kiem Lake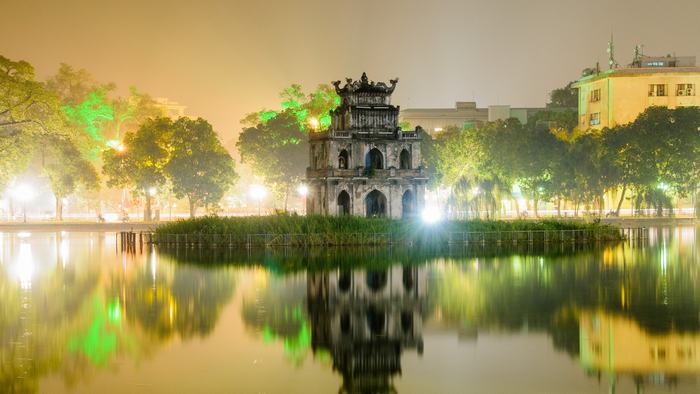 Hoan Kiem Lake
As one of the most famous tourist attractions in every Vietnam tours, Hoan Kiem Lake never disappoints you when coming there, even in the evening.
Strolling around the beautiful flower garden, you can slowly feel another Hanoi with the images of locals doing exercise, artists drawing pictures or groups of the young dancing.
Stop for a while to see Tortoise Tower glowing in the middle of the lake, the ancient Ngoc Son Temple or The Huc Bridge.
You can also enjoy street music of bands or artists with a variety of music.
Do not forget to try some Thuy Ta ice-cream - a specialty of the capital.
We hope that our suggestions will help you plan your trip easier. For more information about traveling to Asia and Vietnam package tours, you can visit our website. If you have any questions, feel free to contact us. Have a nice trip!