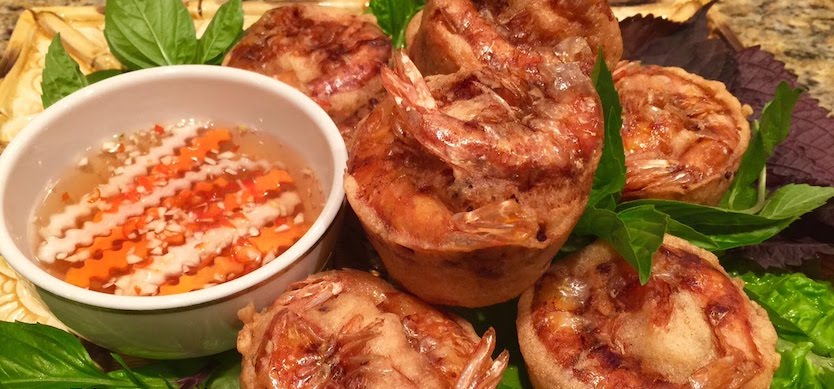 In a journey to the Southwest, of course, one indispensable thing is the specialties of the river region. They are not only delicious, cheap but also bring interesting characteristics of people here. In particular, we must mention the cuisine of Can Tho - the city is both modernity and rusticity.
For visitors on a Delta Mekong tour, it's very easy for them to experience Can Tho cuisine because the operators will take them to the most famous eateries.
But when it comes to the backpackers and travelers, it seems more challenging when local articles do not mention specific locations or go into details.
So, we are here to help you with a trip to discover Can Tho cuisine with unforgettable dishes.
Let's take a look at what you will experience before diving into each dish.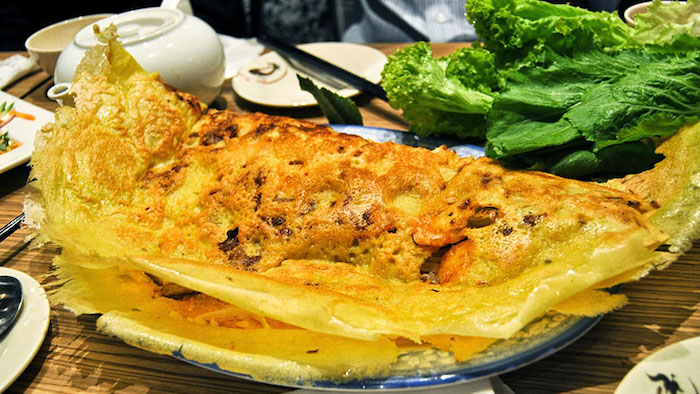 Can Tho rice pancakes folded in half
[snippet]1[/snippet]
Vietnamese fried cake with shrimp and mung bean
Address: Co Ut restaurant (86 Ly Tu Trong, Tan An, Ninh Kieu)
As a rustic, delicate dish, the Vietnamese fried cake with shrimp and mung bean becomes a must-taste specialty for tourists coming to Can Tho. The cake is poured in the mold with diluted rice flour, mung beans, shrimps, meat. The dish is served with lettuce and herbs.
The sauce is an essential factor determining the taste of the dish. Each eatery follows a different way, but all will have the sweet characteristic of the Southwest cuisine.
Sonneratia flower hotpot
Address: Da Ly restaurant (No. 89, Feb 3rd street, Hung Loi, Ninh Kieu)
The attraction of the hotpot is not only in the name of the rural "sonneratia" ingredient but also in the typical flavor of the dish. The hotpot has a tasty, mildly sour taste cooked from pangasius, basa fish, gray eel-catfish, or red tilapia, served with sesbania grandiflora flowers, sliced banana flowers, and sesbania sesban flowers.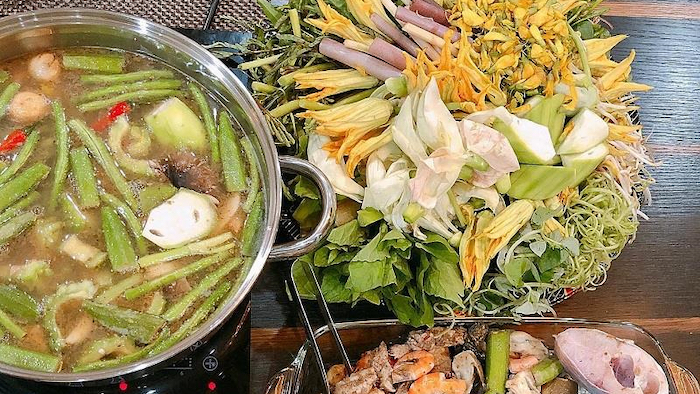 Sonneratia flower hotpot
Rice pancake folded in half
Address: Restaurants on Hoang Quoc Viet and Le Loi streets
In Mekong Delta, travelers will enjoy pancakes coated in a large pan with a rich filling of pork, shrimps, squids, and mushrooms, etc. The rice pancake folded in half is served with lettuce, green mustard, basil, and sweet-sour fish sauce.
Grilled pepper snails
Address: Grilled pepper snails are sold a lot in street eateries in Can Tho such as Chi Toi restaurant (36 Tran Phu, Cai Khe, Ninh Kieu)
One of the dishes that you cannot ignore when coming to Can Tho is the grilled pepper snail. Sea snails are cleaned and boiled, then put on a charcoal fire, sprinkled with fish sauce, green peppers, and then served with Vietnamese coriander.
With the irresistible aroma, the sour, spicy taste, and the crispness of snails, this dish has enchanted many customers.
Soft thin vermicelli noodles
Address: Co Rom restaurant (14 Tran Khanh Du, Xuan Khanh commune, Ninh Kieu)
Soft thin vermicelli noodles is a food made from rice flour, served with roasted pork, herbs, and sweet-sour fish sauce. Coming to Can Tho, you definitely can't miss the opportunity to taste this dish because, surely, the taste will fascinate you.
Grilled sausage
Address: You can find the dish in many street eateries, 91 De Tham street, or Cai Rang floating market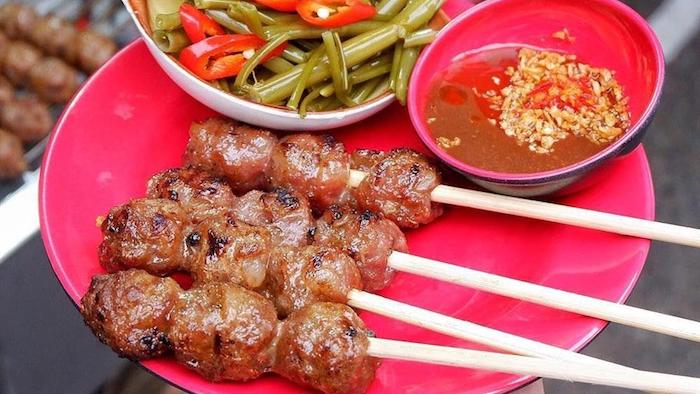 Can Tho grilled chopped meat
The Vietnamese grilled sausage is made from chopped pork, rolled into balls, skewed, and baked on the charcoal fire. It is a dish that indigenous people and many tourists in Can Tho love.
Vietnamese noodles in coconut cream
Address: Cai Rang floating market, Xiu Mai restaurant (16, Ung Van Khiem street, Ninh Kieu), Le Lai restaurant (10-25 Le Lai, An Lac commune, Ninh Kieu)
As a typical dish of the river region of the Mekong Delta, the Vietnamese noodles in coconut milk is favored by many people as a breakfast dish. The noodles are soft, chewy, and have the aromatic flavor of coconut, served with herbs, cucumbers, and peanuts.
This summer, if you have a chance to travel to Can Tho, don't miss these Southwest dishes. You can access our website to look up the tours to Asia, or feel free to contact us for further information. If you find the article useful, don't hesitate to like and share it with others. Thank you.